LAST CHANCE TO WIN - The MT Prize Quiz 2009
Today is the closing date for our quiz of the year. 12 months, 12 questions. What can you remember?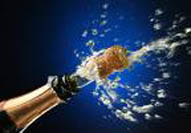 If you're back at work this week and suffering a little bit, here's something to ease the pain: MT's annual prize quiz on the best and worst of 2009. It was a year when the 'R' word dominated, as the government handed out billions to bail out the banks, national debt soared and unemployment hit a 12-year high. But it wasn't all doom and gloom. Recession presents opportunities as well as threats, and here at MT we tried to reflect that by bringing you the ups as well as the downs, and offering some positive stories to leaven the mix. Our quiz of the year adopts a similar approach.
There's a question for every month of the year, and no need to head for Google: if your memory's hazy, all the answers can be found right here on the site. There's the traditional bottle of bubbly on offer for the three best attempts – simply send your answers to editorial@managementtoday.com by Friday 8th January, headed 'Big MT 2009 Quiz'.
Happy New Year to all our readers. Hope 2010 is a great one for you.

The questions [THIS QUIZ IS NOW CLOSED TO ENTRIES - ANSWERS HERE]

1. Which budget-friendly retailer is Britain's highest-paying graduate recruiter, according to a report in January?

2. Which unlikely 'action group' staged a boycott of Kellogg's products in February?

3. What were there 30% fewer of this year than last, according to Forbes?

4. Which chain enjoyed notable growth with a little help from Cheryl Cole's bikini?

5. What do MT editor Matthew Gwyther and Kanye West have in common? (NB. we really hope there's only one answer to this question)

6. Which event slowed the entire internet to a crawl in June?

7. Who found himself in hot water after borrowing a hefty £1.5m from the boss of his biggest rival?

8. What did HMV boss Simon Fox not do in August, much to his shareholders' delight?

9. Which traditional company dropped all references to their country of origin in September, to appease reactionary Americans?