Last-minute shoppers splash £5bn this weekend, says BRC
Over the last two days, millions hit the high street to stock up on prezzies, food and booze.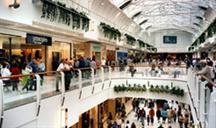 We've all been there. With just a few days to go till the big day, one realises with horror that one hasn't bought a single Christmas present.
This weekend, these last-minute shoppers brought some festive cheer to the high street, spending an estimated £5bn, according to the British Retail Consortium. On Saturday alone, consumers made 31 million transactions, reckons Visa Europe. Although Sainsbury's said that Sunday, between noon and 1pm, was its busiest hour ever in terms of the number of customers served.
Still even these eleventh-hour billions fall short of the high hopes of UK retailers. Christmas sales figures are likely to be 'acceptable' rather than 'exceptional', sniffs the BRC.