Last night I took my first Uber car and it was amazing
Cab app Uber may be valued at $10bn - but in the UK the company is still a plucky young startup fighting the establishment. May the best man win, says Emma Haslett.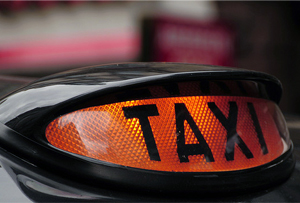 The news Uber's latest funding round has valued it at $10bn is no surprise. Last night I went to an event where they offered me a free ride in an Uber car - a cab run by the newly-established-in-the-UK taxi startup. Usually, a black cab ride from Central London to my flat in West London is £20. Last night, it would have cost £11. Those are economics you can't argue with.

A car showed up to where I was waiting within two minutes, making it faster than the lift in the building I was at. Like other taxi apps, Uber showed me the car's make, model, number plate - and just in case I was still in any doubt, a photo of its driver. It also showed me roughly how much it expected the fare to be (£11.75 - shows what it knows).

Mohammed, my driver, has been working with the company for four weeks. Before that he was a minicab driver based in South London. Drivers don't specifically work for Uber - they can dip in and out of working for the company when they like by turning the app off, but Mohammed said working for the service alone earns him enough.

He doesn't pay to hire his car from a minicab company, as with the likes of Addison Lee, where drivers rent their cars for £150 per week - and while other services take up to a third of their driver's fare if you pay by card (less if you pay with cash); because everyone pays by card on Uber, drivers know exactly how much their fare is going to be.

Did Mohammed mind it being so cheap? 'No,' he said, 'because I know I'll get a fare straight back.' The service also operates something called 'surge' pricing, which means fares go up during peak times. Not so great if you're trying to get a cab at rush hour - but brilliant if you go out for a couple of drinks after work and want to get a cab home.

The company also makes every driver go through an orientation, which means they have to be able to speak English and their car needs to be reasonably new, clean, and in a decent state of repair - so it feels much safer than those dodgy minicab guys in high-vis jackets you get outside nightclubs. Plus, passengers get to rate their driver, so anyone with a persistently low rating will eventually be excluded from the service (it works both ways - drivers get to rate passengers, too).

Uber is currently locked in a battle with the London Taxi Drivers Association (black cabbies, basically) about how the app works, using your smartphone's location data to decide your fare (as in a black cab, it goes up if you're stuck in traffic). According to the LTDA, it's illegal for private hire cars to be fitted with metres. Uber argues that because it's the customer's phone deciding the fare, it's fine.

Cabbies are threatening to create gridlock on London's streets in protest at Uber, but as MT has said before, it's the equivalent of the Luddites setting fire to threshing machines. You can't stop the inexorable March of progress. Plus, Mohammed was way nicer than any black cabbie I've had in ages. In the war of the taxis, may the best man win.