Latin lesson for spending gap
In the recent row over private equity and the potential rewards available to City whiz-kids, much was made of the growing gap between rich and poor in the UK – in fact some commentators were gloomily warning that this could lead to social unrest. But according to a new study, we've got a long way to go before the problem is as bad as it is in Latin America.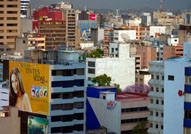 Senior managers in Mexico have more than 21 times the buying power of administrative staff, according to Watson Wyatt's latest Global 50 Remuneration Planning Report. This is a study that looks at salary details of 50 benchmark positions internationally and compares to them to a cost-of-living index, to calculate relative buying power.
This year it found that this gap between rich and poor was most pronounced in Latin America, which accounted for six of the top seven. Chile was second behind Mexico, with managers enjoying 19 times more spending power than administrators, while Venezuela – despite the socialist president Hugo Chavez – was third with a 15.5 times multiple. Brazil, Columbia and Argentina also placed in the top seven.
The growing gap between rich and poor in the UK has been highlighted by several leading figures this year – private equity bigwig Sir Ronald Cohen, for example, warned that there could be a repeat of the Paris riots here if the problem is not addressed. But according to the study, senior managers in the UK had 5.4 times the spending power of administrators – still a sizeable gap, but only enough to rank it 28th of the 50 countries listed.