LAUNCHPAD: Boris backs London flip flop firm
'Entrepreneurship is the lifeblood of London,' the Mayor of London said as he launched his own flip flop design at Gandys HQ.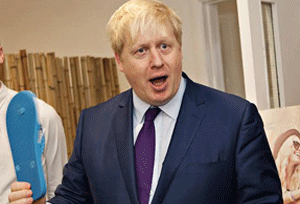 Speaking at the official opening of the new Southfield offices of flip flop brand Gandys, Boris Johnson said small firms are the 'lifeblood of London', with some 800,000 of them providing 50% of jobs in the capital.

'Everywhere rivals London and we've got to make sure we're competitive. At the moment London is doing brilliantly. We've got 28,000 tech businesses now. You've got start-ups in the most improbable areas of business – who'd have thought that a London company would come up with a new flip flop,' he told MT.

Started from a small flat in Brixton two years ago, Gandy's now sells hundreds of thousands of flip flops across the world. The business was founded by brothers Rob and Paul Forkan, who were orphaned by the Boxing Day Tsunami in 2004 then aged 15 and 17 (read their story here).

The charity footwear brand donates 10% of its profits to fund children's homes across the world. By the end of this year, Gandys expects to have sold 230,000 pairs of flip flops across 30 countries from the USA to Brazil and Australia.

'This is the kind of start up that can turn into a huge multi-million pound business,' said the Mayor of London. 'The real opportunity for Britain now is to move away just from bank financing and to try and get private investors into start-ups like this.'

The Mayor's backing of enterprise is part of a wider government aim to double UK exports to £1 trillion by 2020, as the country recovers from recession.

Johnson designed his own flip flop as part of the launch (see his creation below).