LAUNCHPAD: Independent record store fails to flog itself on eBay
Why fight the internet when you can try and make money out of it killing your business?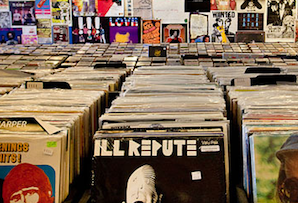 An independent record shop in London is set to close, after the owner failed to sell it on eBay for the buy it now price of £300,000.

On The Beat, in London's former red light district Soho, was posted on the auction site for a month by owner Tim Derbyshire, along with its stock of over 50,000 LPs and singles. That's one helluva jukebox.

Seems like eBay-ers were a bit confused by the whole thing though, with Derbyshire overwhelmed by emails enquiring how much postage and packaging he was charging for his shop, according to the Evening Standard.

Perhaps if Derbyshire had kept his LPs spinning a bit longer he could've made use of the Bank of England's Funding for Lending Scheme – BoE governor Mark Carney said today that it would be focusing on business loans, rather than the overheated mortgage market (so MT isn't the only one who thought FLS was actually supposed to be for businesses). Meanwhile, Help to Buy keeps on blowing yet another bubble into house prices.

Nonetheless, MT applauds Derbyshire's valiant attempt to flog off what he claims is the oldest independent record shop in London's West End, 34 years after it first opened its doors. In an age where online music sales have banished most record stores to the rose-tinted exile of nostalgia, why fight the internet when you can use it to try and make some money out of your demise?

We needn't feel too sorry for the now ex-music maestro anyway. Derbyshire told the Evening Standard that he was 'delighted' to be closing down the store, and that 'it's a weight off my shoulders.' But whilst Derbyshire's Ebay angst may be over for now, with 50,000 records to shift there could be a whole lot more anxious bid-watching in store for him now.