LAUNCHPAD: Move over Shoreditch there's a new tech cluster in town
Wokingham named as UK's tech capital...(it's near Reading).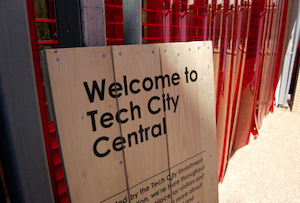 The media spotlight may be on east London's 'Silicon Roundabout' but there's another part of the UK which trumps it in terms of tech jobs. A little town on the eastern fringes of Reading called Wokingham has five times the national average of technology workers, according to a report by KPMG.

The Tech Monitor report has pinpointed the top 10 tech employment clusters in the UK – while the little known market town of Wokingham steams ahead, the area around the Old Street roundabout doesn't even make the list – with tech employment at only 1.7 times the national average.

The clusters in the top ten, including Rushmoor, Slough and Woking are all in the south east and close to the M3, M4 or M25 motorways.

London's bespectacled, tech hipster community can be comforted by the fact that KPMG has pointed out this is probably because of the diverse local economy in the area, which also includes high volumes of financial, advertising and marketing companies. Also, the data supplied from the ONS is based on VAT registered companies in 2011 – so are missing a lot of the newest and smallest companies. Phew.

In terms of the strength of the industry, KPMG has found UK tech sector output to be growing at the fastest rate since May 2010 – and employment in technology is growing faster than the UK average. Confidence is flying high with 83% expecting higher business activity over the coming year.

'The UK tech sector is beginning to get the profile and attention that it needs – it is no longer unusual to read about tech entrepreneurs in our daily newspapers and political parties of all persuasions have recognised the need to promote this important sector in its policies,' said Tudor Aw, KPMG technology sector head.

'The tech sector has generated solid rates of job creation over the last four years and it has consistently outpaced other UK private sectors in creating jobs since the global financial crisis in 2008/09.'

Happy times for the tech industry. But can we expect to see a mass exodus from Tech City to Wokingham? It's unlikely, we doubt you can get flat whites anywhere west of Chiswick and there won't be anyone else riding fixies.