LAUNCHPAD: Pitching tips from Silicon Roundabout
MT's Gabriella Griffith headed to Tech Pitch 4.5 in east London to get some lessons in pitching.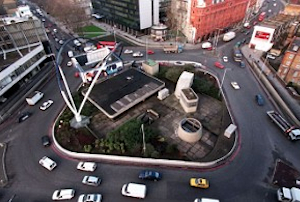 Pitching a startup is tough business. Deceptively so. London's startup community is a sprawling mass, with thousands of entrepreneurs all vying for the attention of the moneymen (Silicon Roundabout apparently welcomes 1,000 new startups each month). With investor airtime so rare and precious, fluffing a pitch isn't an option.

Luckily for London's plucky entrepreneurs, there is a raft of events designed to help them craft and perfect their pitches. There's Don't Pitch Me Bro, Lion's Cage, Tech Pitch 4.5 and many more. I decided to hotfoot it down to Tech Pitch 4.5 to take it all in and pick up some pitching tips (leaving my morbid desire to watch people flounder at home).

Tech Pitch 4.5 takes eight startups and props them up in front of a panel of investors, journalists and other startups. They deliver their pitches and, hopefully, get a tsunami of productive feedback to help get ready for the real thing.

It's not just a happy-clappy feedback love-in, though; a competitive edge is brought by the promise that the best pitch (as voted for by the panel) gets an investment meeting with EC1 Capital.

The night started with a keynote speech from LinkedIn's biggest proponent and general shouty man, James Potter, known in the industry as The LinkedIn Man. He gave a half-hour lecture on how to use the social network properly (I'll give you a clue – none of us are using it properly 'AND WE SHOULD BE').
Tech Pitch 4.5 panel (L-R Nic Brisbourne, Charmaine Eggberry, James Potter, Danvers Bailieu, Lex Rees, Sophie Hobson

With a lesson in LinkedIn out of the way, the pitching began. Danvers Baillieu, COO of online privacy company Privax compared the event. On the panel was Nic Brisbourne, VC at Forward Investment Partners, Charmaine Eggberry, head of social accelerator Wayra, Sophie Hobson, editor of LondonLovesBusiness.com, James Potter (Captain Shouty – see above) and Lex Rees, business development manager at London South Bank University.

One by one, the entrepreneurs hit the stage, with three minutes each, followed by questions. The standard was pretty damn good, but there were a number of standout performances.

Buzzmove, whose CEO Becky Downing gave a persuasive pitch, promised to take the sting out of the moving process by comparing prices for 'moving professionals' - aka men with vans. It's the moneysupermarket.com of moving house.

With a partnership with Zoopla in the pipeline and £100,000 of the desired £250,000 already raised, it certainly captured attention (and won the audience vote at the end). The panel's main reservation was how Buzzmove intended to attract its much-needed initial customers.

Screenburn, introduced by director Tom Raffe, made quite an impression. An app which launches and sells films through Facebook, it already had big-name clients – having launched videos for Paul McCartney and The Rolling Stones. Raffe didn't have all his numbers to hand, though (a mortal sin, as any Dragons' Den fans will know).

The panel's winner of the night, though, was Mobiloud – an app-building platform for bloggers. With the success of blogging platforms such as WordPress, Mobiloud is taking a crack at the mobile blogging market by creating an easy-to-use platform for bloggers to create and publish their own apps. The panel had some questions around Mobiloud's price point ($99 per month) but felt it was the startup most deserving of a meeting with EC1 Capital's investors.

MT might not be in a massive rush to start a side project and pitch it to any investors, but I did have some take away tips from the night.

1. Keep it simple (even when it's complicated)

Startup Red Skies, the creator of a data management system for utilities companies, managed to completely baffle the entire room with what exactly the company did and how it made money.

The inability of founder Darren Oliverio-Priestnall to communicate his company's purpose to the audience left him without many votes – despite having what sounded like one of the most lucrative businesses, profit-wise.

2. Confidence is a winner

Juan Guerra leapt to the stage wearing an elephant onesie to pitch his business, Studentfinder, and went down a storm. He talked about his business as if it was already making millions, and his belief and passion impressed the panel – coming second in the vote.

3. Know your market

CoutAllure founder Salman Khan took to the stage to pitch his fashion business, a 'do it yourself' design platform which allows people to create their own clothes. But the panel were confused about who the service was aimed at: Khan's answer of 'fashion enthusiasts' wasn't enough to convince the crowds.