LAUNCHPAD: Snapchat snubs $3bn offer from Facebook
The startup behind the popular photo-sharing app has reportedly rejected a bid from Facebook.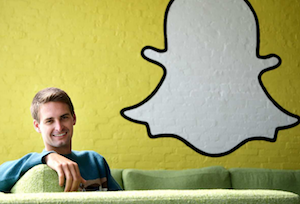 Adding further proof to the argument dropping out of college won't ruin your life, Snapchat founder and chief executive Evan Spiegel, has reportedly turned down a $3bn buy-out offer from Facebook.

The 23 year-old, who dropped out of Stanford only to launch the Snapchat app two years ago, is apparently not considering an acquisition or significant investment until next year, preferring to wait until the wildly popular app grows its user base. Read as: Holding out for a better offer.

Snapchat, for the uninitiated, specialises in 'ephemeral messages' – photo messages which self-destruct after a few seconds. Social media users are becoming more aware of the lasting effects of their photo sharing (those drunken party shots don't just disappear because you've decided to become a lawyer) so these perishable pics are gaining popularity.

Snapchat hasn't released its exact user figures, but Spiegel told the BBC his app is on a quarter of UK smartphones (which works out at around seven million Brits who could be 'snapchatting').

Reports suggest Facebook isn't the only one sniffing around Snapchat – Chinese ecommerce powerhouse Tencent Holdings put in an offer valuing the company at $4bn. (Nice to see overblown evaluations haven't disappeared with Twitter's IPO).

According to the Wall Street Journal, Facebook has already had an offer of $1bn rejected by the startup. Its latest $3bn proposal would make Snapchat Facebook's most expensive acquisition.

Commentators have said Snapchat's popularity with the yoof is the big pull for Zuckerberg et al – it seems Facebook is afraid it's losing its looks and the kids are opting for a younger model.

In the summer, Snapchat raised $60m from venture capital groups – valuing it at $800m – all of this despite the fact it has no way to make money – not a problem though eh Twitter?

We'll just have to wait and see how Spiegel decides to play this out. Chances are, with lower college debt than most of his peers, he's got the patience to wait it out before cashing in. Much like the images on its photo-sharing app, Facebook's offer has been left to self-destruct. Let's just hope all of the offers don't disintegrate in a similar way.