LAUNCHPAD: TechUK plans to create 500,000 new tech jobs
Vince Cable has relaunched the UK's tech industrial body as techUK and aims to create 500,000 new tech jobs.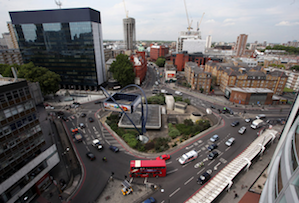 Anyone who thinks this week's biggest technology news is Twitter and its long-awaited 'just get on with it for goodness sake' IPO would probably be, well ahem, right. But here in little old Blighty there have been a number of other events which could have more effect on the technology landscape in the UK than Jack Dorsey's billions.

The UK's tech industry body, formally known as Intellect, has relaunched as techUK, replete with a new target to create 500,000 tech jobs and 'significantly grow the UK's tech sector'.

TechUK won't be simply standing in the centre of Old Street Roundabout shouting at passers by to start tech companies, it has actually pinpointed four areas it intends to focus on to increase our tech influence. Probably for the best.

Trade and export is the first – techUK has announced a partnership with UKTI to identify export opportunities. There's also infrastructure, security and skills (techUK will be supporting Code Club in its bid to set up a network of the clubs in primary schools and get kids coding).

'The UK is home to numerous innovative, high tech, companies,' business secretary Vince Cable said this morning.

'Through our Industrial Strategy we are working with the ICT sector to identify those areas where government can assist growth; in particular, training, access to finance, procurement and support for innovation through the Catapult programme. techUK will be at the forefront of building our relationship with an industry that employs around 1.3 million people across the UK.'

Meanwhile, both London and Cambridge have been playing host to a gaggle of Silicon Valley entrepreneurs during the Silicon Valley Comes To The UK 2013 event (SVC2UK for those who prefer a zippy acronym).

A number of events have been taking place across both areas, with spokespeople such as uber investors Sherry Coutu and LinkedIn founder Reid Hoffman as well as people behind Valley startups like Noodle Education, Blinkx and Edmodo.

'Through SVC2UK, we focus on encouraging CEOs and founders of start-up companies to 'scale up' their companies and join the 'vital 6%' of companies that drive the jobs and GDP Growth in our economy,' said Sherry Coutu.

'We hope to inspire European entrepreneurs and students to start and join scaling -up ventures that shape our futures. This year we have chosen to focus on education-technology and health-technology as two areas poised for disruption, the outcome of which will make the lives of teachers, students and patients far better.

'We are seeing significant momentum in these spaces and, as they continue to experience investment and innovation, expect them to have a real impact on the UK and global economies.'

On the delegation's 'to do' list has been the launch of the SVC2UK 100 Club – a list of high growth companies signalled out as ones to watch. The prediction is these companies will scale to £100m revenue in the next three to five years. Those on the list were treated to one-on-one mentoring from entrepreneurs and investors at the CEO Summit at City Hall today.

Sounds good to us, who needs Twitter anyway?