LAUNCHPAD: UK startup Azimo expands in Europe
Following last month's $1m seed investment, money transfer upstart Azimo has launched in Germany and Ireland.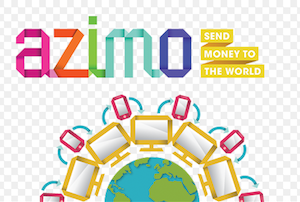 Those sick to the back teeth of the term Fin-tech avert your eyes now – because one of London's Fin-tech startups (there, we said it) Azimo has made the move to expand its services further – launching its money transfer platform in Ireland and Germany as of today.

Rolling out its services to Ireland and Germany increases the number of countries it operates in to a healthy 192. In company raised $1m from eVentures, in a seed funding round in September – citing further European expansion as its main driver for investment. According to the financial fledgling, France, Spain and the Netherlands are next in line to be Azimoed (MT's word not theirs).

Azimo was launched in August of last year, in a bid to create a cheaper alternative to transfer giants Western Union, PayPal, Moneygram etc. The platform allows customers to send money via the web, its mobile apps or even Facebook – charging between 1% and 2% per transaction.

'Azimo's reach of over 190 countries and territories gives it a much larger network than many competing services and while this has taken a lot of time and energy to build up, we're now in a position to expand into many more markets very quickly,' said Azimo founder Michael Kent.

'The platform has already seen its customer numbers double every quarter since launch, and with its launch into the world's fourth largest remittance market in Germany - worth an estimated $15bn a year - this growth is set to rise.'

Some healthy chest puffing from Kent there – well, 'Gluck' as the Germans would say, MT likes nothing better than a bit of disruption in the financial industry.