Laying down the law on training
The Met is championing a new way for London businesses to train their staff - and clean up the streets...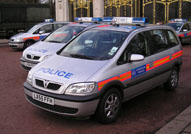 In these straitened times, there's a danger that businesses may be less willing to invest in training their staff – partly because they want to preserve their pennies, and partly because they want to make sure that all hands are firmly to the pump. London's Metropolitan Police Service is proposing an answer to this conundrum: send your staff to train as volunteer police instead. Not only will they get to learn some useful transferable skills, but you'll also be doing your bit to make the capital a safer place.
The scheme works by employers giving their staff paid leave (on top of their regular holiday) to join the Employer Supported Policing programme. They'll then be trained as Special Police Constables, a process that includes lots of tuition in soft skills like communication, conflict resolution and leadership. Not only will this stand them in good stead when they're finally pounding the streets – which they'll do for 16 hours a week (unpaid) when they qualify – but, so the theory goes, it could also give them a boost in their day jobs.
By way of example, the Met offers up Josh Town, whose day job is working as an IT Manager for HSBC. 'The rapidly-changing situations that can arise at any time while on patrol mean that I have to make fast decisions, while influencing others who may not understand or be willing to cooperate,' says Town 'This provides me with additional skills training not normally available to employers, which is hugely valuable to HSBC.' We imagine mollifying a horde of snarling hoodies would probably be quite good practice for dealing with a workgroup of irate PC users who can't get access to Facebook.