Are Leaders Born or are They Made? - The Case of Alexander the Great
What sort of leader was Alexander the Great? Charismatic and powerful? No doubt. Megalomaniac and cyclothymic? Maybe. This fascinating book from Professor Manfred Kets de Vries and Elisabet Engellau takes on the leadership question from another angle, with a clinical look at Alexander - his relationships, his successes and failures. A living legend that has endured for over 2,000 years, Alexander is put under the psychologist's probing eye to unravel what made him 'the Great'.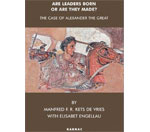 Alexander the Great's life has recently been transformed, yet again, into a Hollywood production. This time, with a swarthy Irishman as Alexander and a sultry young American actress in the role of his ambitious mother, Olympias. Looking at the unfavourable critiques received, rather than shelling out money on a perhaps dubious rendition of his life and personality, why not invest a similar amount and get something far more worthwhile... and lasting.
That something would be this book - Are Leaders Born or are They Made? The Case of Alexander the Great (also available in Dutch - Het Leidership van Alexander de Grote). Not only is there an easy-to-read overview of all the key events and people in Alexander's extraordinary life, (which would negate the need to sit through hours of an Irish Alexander with 3-day stubble), but also excellent references to source material for those wanting to know more.
And even better, we also get a long look into the workings of his head and his heart. What factors came into play that allowed Alexander to be such a powerful and unique leader, what could have possibly held him back from even further triumphs and what could have triggered some of his leadership errors.