Leadership lessons from Father Christmas
Is Santa a bad influence or a great role model? Both, apparently.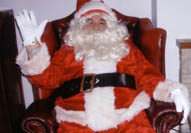 Even Father Christmas isn't immune to the Christmas PR onslaught this year. Some killjoys at the University of Melbourne have pointed out that Santa's expansive waistline, and penchant for sherry before slipping behind the wheel (or, rather, reins) is sending out the 'wrong message' to children.

But that doesn't necessarily mean that we can't learn some valuable business lessons from Father Christmas, too. After all, he does manage to deliver presents in 195 countries annually, to a non-flexible deadline - which is more than can be said for Royal Mail. What's more, his job's only going to get tougher too: between 2009 and 2015 his existing UK customer base of 6.4m is projected to increase by 7.7%.

Another seasonal press release explains how we could all learn a thing or two about management from the bearded one, so here are some top tips - straight from the reindeer's mouth.

Any manager knows that ensuring your team (whether they be elves or humans) stay motivated is critical to performance, and also that teams take their behavioural cues from their leader. Jason Miller at Tinder-Box - the brains behind this particular S Claus-related PR stunt - explains that a cheery disposition is key to the Father Christmas brand and that by staying happy and cheerful, others follow his lead and standards of service and production remain high. We suspect that BA's chief exec Willie Walsh wishes he could say the same about his staff members…

The blurb continues - people, like reindeers, also have different strengths so positioning them in the right job is essential. Father Christmas, for example, might place Rudolph at the front of the sleigh because he has an amazing talent for navigation. But he may choose to partner him with Prancer or Blitzen, who can act as a pace setter, ensuring that the team has the energy to deliver through the night. As in any business, knowing each person's strengths and weaknesses and working as a team is essential to maximise output.

And the last, but not the least, lesson we can take from the world's favourite present delivery operative is monitoring performance. Too many mince pies or carrots for Santa and his reindeer and the schedule might start slipping (although there's not much chance of his trousers doing the same). Learn from your mistakes, change your routine if it's slowing you down and regulate your production process to streamline your performance.

As efforts to create seasonal stories go, you must admit it's quite inventive. We wrote about it, after all...
In today's bulletin: