Leadership lessons: Norway's software CEO - Eilert G Hanoa, founder and CEO, Mamut
Every month Hashi Syedain talks to a business leader about their personal management issues.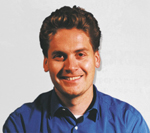 Eilert Hanoa's first job was with West Computers and he started his first software company, PC-Land, with West Computers co-founder Tov Westby at the age of 15. At the age of 24 in 1994, instead of finishing his business degree at BI Norwegian School of Management, Hanoa launched Mamut. The choice was to wait six months to graduate or be ready to piggyback off the launch of Windows 95.
No contest really. Mamut specialises in enterprise software for start-ups and SMEs, and was floated on the Oslo Stock Exchange in 2004. The company has had double-digit growth every quarter since it started, a turnover in 2005 of NKr181 million ($27 million) and has just acquired Oslo-based internet service provider Active 24 for NKr250 million ($37 million).
HS: Even though you didn't graduate, did business school teach you anything useful?
EH: I learned how to interact in a group and meet deadlines and complete projects, which was great. That's what business school is for. I also learned where to pick up good literature sources for future reference. But I didn't learn anything that shaped my business plan: the fact that you need to sell, sell, sell to survive wasn't even mentioned.
Did starting so young help?
I learned early that people who try to do too much are not successful. It's better to focus on one area. I also learned that you can't rush success; you need to build it step by step. Success in one area of the business doesn't guarantee that other areas can deliver, so you have to have a long-term mentality. History repeats itself, but not in exactly the same way. I saw the ups and downs of the 1980s; that helps you place your bets better. It stopped us focusing on anything other than our main business during the dotcom bubble, although it was impressive to see how much money a bad business case with no management experience could raise.
How do you manage such a fast-growing company?
You have to have good organisation, good metrics and good business units. Then you can scale. It's also important to understand what you're in charge of: companies under-estimate the need to understand the specifics. They think a good manager can manage anything, but a customer would rather deal with a specialist who knows all the products and processes really well than someone who doesn't offer that.
Does it become harder to relate to SMEs as you get bigger?
We base our customer care on their needs, not on ours. That's why we charge a flat rate for our helpline rather than charging per call. We are one of the few companies in our area that focus only on small businesses - usually the least important customer. If you look at how a big telecoms company treats small business customers, it's worse than an individual consumer. I prefer to give everyone business-class treatment, because it's not that much more expensive to do. I agree with companies such as budget airline JetBlue Airways, which does not charge for extras such as drinks.
Is there anything you wish you'd done differently?
We should have done everything a little bit better from the beginning, because it would have made an exponential difference by now. The nitty-gritty is important.
Your website says you want more women on Mamut's top management. Why?
Gender doesn't matter per se, but I don't want to exclude anyone. We have no women in our top team and I think you have more fruitful discussions when people come from different points of view. But when you are building a company, having too many discussions is not always useful. It has been part of our success that the senior management thinks in the same way.
Are you a workaholic?
Would you ask David Beckham if he's a workaholic? If you are a top sportsman and you train all the time, it's called dedication. With artists, it is called genius. Only in business do you say 'workaholic'. So the answer is yes, but not in a negative sense because you can't play in matches without training.
How does Norway produce so many world-class technology companies?
Human interaction with technology is one way to sum up the Norwegian advantage. It comes from the social democratic way of thinking. If you have a 10-employee company in the UK versus one in Norway or Sweden, the Scandinavian manager will be very keen for everyone to know everything. The more expensive employees are, the more important it is to empower them so that they can give maximum value. We also adopted early standards in telecoms, banking and reporting. No advantage lasts for ever, though. We have to think what to do next, as a high-cost country on the edge of Europe.