Leadership lessons from YouTube
Soon-to-be England boss Fabio Capello gets a few pointers in our video round-up this week. We've got one of his predecessors - the infamous, and some say turnip-like, Graham Taylor; the effects of a disciplinarian approach to business from Seinfeld's soup Nazi; and Peep Show's Alan Johnson giving a lesson in presenting to colleagues who don't speak your language.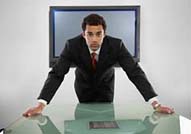 As Fabio Capello settles into the England football hotseat, the Italian may want to heed the experience of his predecessors. Until Steve McClaren's recent demise, no failure was greater than that of Graham 'Do I Not Like That?' Taylor. This clip brings back all the pain...
Many believe Capello's firm hand will be critical to any England resurgence. He's certainly someone who can knock people into line. Still, he's nothing in the iron-fist stakes when up against the soup vendor from Seinfeld. He makes the best soup in New York. He just happens to be a complete lunatic.

Capello is a tough operator, but he doesn't speak English, and this remains his one major question mark. Of course it may be his saving grace, cushioning him from the all the 'boy's done good' banter of the dressing room. Peep Show's Johnson is a similarly macho boss, seen here giving a less than convincing remote presentation to his German colleagues.