Leadership lessons from YouTube
This week's video round-up looks at how the festive season can affect the office. We bring you Wernham Hogg's Christmas party; Alan Partridge demonstrating the dangers of drinking on business; and Edward Norton's personal life affecting his office output in Fight Club.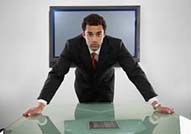 Office Christmas parties are a potential powder keg – throw together people from opposite ends of the company and wait for the reaction. Once again, the Office's Christmas knees-up delivers the biggest bang.
It's important not to let bravado get the better of you when drinking at work. Here Alan Partridge, desperate to impress his potential partners, feels he has to hide his penchant for 'girlie drinks' by incorporating them into a more manly concoction. This clip ends prematurely – before the bit where Partridge blacks out. After 45 minutes of drinking.
At this time of the year, many people's minds start to wander from the job to their personal lives. Drive gets lost to hangovers, and ambition replaced by dreams of sofas and sweets. Luckily even the most hungover team member won't be as distracted as Edward Norton in Fight Club…