Leadership lessons from YouTube
As it's the final MT bulletin of the year, it's the perfect opportunity to look back over our regular educational business video slot and remind you of some of the year's choicest selections. We've got Michael Douglas, David Brent, Colonel Kilgore, and more...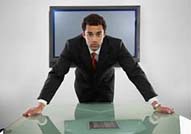 This year's credit crunch made for testing times in boardrooms across the corporate world. Northern Rock, Merrill Lynch and Citigroup all took a huge hit – as did the high-street, with many shops forced into starting their January sales before Christmas. Not the easiest time to be a boss. For a lesson in keeping your head while all around you are losing theirs, look no further than Apocalypse Now's Colonel Kilgore. That said, even if times are tough, we cannot cannot guarantee success if you adopt this approach in corporate life.
It has been a good year for gadget-lovers, with the launch of the iPhone, and demand for the Nintendo Wii making it an elusive gift this Christmas. But it's worth remembering that products don't need to be packed with the latest processors in order to cause a clamour. Often it's just a matter of capturing customers' imagination. As the hula-hoop scene from the Coen Brothers' Hudsucker Proxy proves.
The failure of Steve McClaren's team to qualify for next year's European Championships made it a terrible year for English football. This caused yet another recruitment debacle at the FA, which has handed the task of restoring the nation's footballing pride to someone who doesn't even speak English. Here The Office's David Brent gives an object lesson in irresponsible appointments: 'Has he passed his forklift driver's test? He gives the tests,' lies Brent.