Leading China's future
The leading Chinese business school CEIBS and the international business school accreditation body EFMD (EQUIS accreditation) are organising an international conference on future leadership in China on 26-28 Nov 2006 on the CEIBS campus in Shanghai.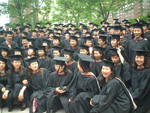 Although China is armed with capital and ambitious strategies, leadership talent is and will remain a challenge for a long time to come. Globalisation, increasingly demanding market pressure and sustainable development will only materialise if Chinese companies overcome major obstacles, among these, the talent gap.
The EFMD-CEIBS conference "Leading China's Future, Future Chinese Leaders" will look at this key issue from different angles:
Developing globally responsible leaders in China, based on the experience of EFMD/UN Global Compact Initiative
Shaping the future of business education in China, focused on its current situation and future challenges
Developing human capital in China, focused on talent development and talent management, challenges when Chinese companies go global, including managing diversity and cross-cultural management, specific issues of the Chinese market such as Chinese returnees; other topics such as corporate universities will also be discussed.
Alliances and partnerships, focused on the experiences of academic partners, governmental agencies, and corporations that have led to successful achievement. Advice will also be given to business education professionals considering setting up in China.
The conference will bring together a range of specialists on talent and leadership in China, from academics to professionals, and provide exceptional networking opportunities for HR directors, business leaders, business school heads, and executive education directors from China and the rest of the world.
Amongst the confirmed speakers, HR executives from AstraZeneca, Baosteel, Lenovo and Heidrick & Struggles will be attending, as well as eminent academics from leading business schools such as INSEAD, Thunderbird, Antai School of Management, Warwick Business School and many more.
For more details, schedules and confirmed speakers, check the conference's website.
http://www.efmd.org/html/Conferences/conf_detail.asp?id=060213wuoy&aid=060213ywqb&tid=2&ref=ind