A leading question on role models
After the year we've had, can it really be true that business people are still Britain's top role models?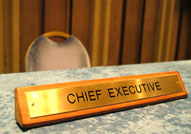 According to a survey by leadership development group Common Purpose, 45% of the 750 respondents named business people as their top leadership role models. That made them a more popular choice than politicians, historical figures, religious leaders, teachers and (less surprisingly) sporting figures. 'The current economic situation has not dented the inspirational appeal of business leaders,' concludes Common Purpose sagely.
Not everyone laid claim to a role model, of course. But of those that did, business leaders featured prominently. High-profile bigwigs cited included M&S boss Sir Stuart Rose, Birmingham City CEO Karren Brady and Virgin chief Richard Branson – although others plumped for lower-profile family members involved in the business world instead. 'It is great that our belief in business leaders has not been dented', says Common Purpose chief exec Julia Middleton. 'It will be them that accelerate us out of recession.'
Now a few years ago, this finding might have seemed more plausible. Back then, UK plc's high fliers – particularly the City's masters of the universe – could seemingly do no wrong, churning out profits to their hearts' content. But after a year in which the reputation of many of these exalted leaders (including Rose, and virtually everyone connected to the City) has taken a bit of a battering, it seems a bit odd that their leadership reputations appear to have survived completely intact.