Leahy heads to US for store check-out
Fresh from picking up his award as Britain's Most Admired Leader at the MT awards last Tuesday, Tesco boss Sir Terry Leahy is heading out to the US this week to run his expert eye over Fresh & Easy, the convenience store concept the retailer launched last month. He has big plans for the fledgling chain...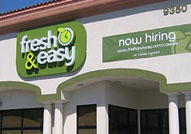 Tesco spent last week wowing investors and analysts with its ambitious expansion plans for Fresh & Easy, a new chain of stores on the west coast intended to provide Americans with Wal-Mart-style prices in town-centre locations. It plans to open about 50 stores by February, but wants to increase this to about 250 within two years. If all goes well, it could have as many as 1000 within five years.
The stores, which are based on the Tesco Express concept that's been doing so well in the UK, will all be about 1000 sq ft in size – tiny compared to the giant Wal-Mart outlets. The idea is to offer Americans an easier shopping alternative: fresh food and ready meals at low cost in smaller, more convenient shops. Tesco thinks there's a gap in the market, and plans to spend more than £1bn trying to exploit it.
To keep costs down, the stores all use self-service checkouts. This concept is still relatively new in the UK, so it's likely to prove even stranger to US shoppers, who are used to having everything done for them. For similar reasons, the stores will also carry a lot of own-brand produce. Tesco has set up a factory in Riverside to make its ready meals – partly to make sure it gets the food on the shelves quickly, and partly because it doesn't trust local suppliers to do it.