How to leave a legacy
The circumstances were different but Steve Jobs and Sir Alex Ferguson both left a powerful stamp on their respective organisations when they departed. So, how do you leave a legacy? Here's a crash course.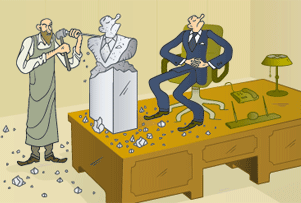 What's a legacy anyway? 'A good place to start is simply by asking yourself the question: what do you want people to say about your impact as a leader 10, 20 or 30 years from now?' says Regina Barr, founder of US coaching organisation Red Ladder. A legacy, she says, 'is the sum of all of the outcomes resulting from our behaviour that others continue to remember about us.'
Don't delay. Too often, people consider the impact of their leadership only when they're about to retire or move on, when their legacy is already a fait accompli, says Robert Galford, co-author of Your Leadership Legacy with Regina Maruca. 'Your desired leadership legacy should be a catalyst for action, rather than a result considered after the fact,' he says.
Start with values. Your true legacy comes from the way you behave and the example you give. 'Ask yourself what's your passion, what makes you want to get out of bed, the thing that gives you a sense of purpose,' says coach Jude Jennison of Leaders by Nature. 'That will help you frame your values and your purpose as an organisation.'