Lee shows it's tough at the top
Bolton Wanderers manager Sammy Lee left the club on Wednesday ('by mutual consent', as the lawyers like to put it). Nothing unusual there – but the sorry tale of Lee's time at Bolton demonstrates how hard it for even the best technicians to step up into a leadership role.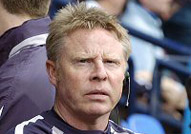 Lee was widely considered to be one of the best coaches in the game – impeccably qualified, with an excellent reputation from his time at Liverpool and England. Having spent two years at Bolton as assistant manager to Sam Allardyce, he also knew the club and the players. So when Big Sam left for Newcastle this summer, Lee seemed the obvious choice to continue the club's progress.
Unfortunately, things haven't quite gone to plan. Two months into the season, Bolton lie one point off the bottom of the table, with a measly one win in nine games. So much for the coaching badges.
In retrospect, the warning signs were there from the start. Lee seemed desperate to step out of the shadow of his successful predecessor, criticising his tactics and methods – which didn't go down well with a group of players who had all been brought to the club by Allardyce. Lee also managed to fall out with influential senior players (including one he'd appointed as first-team coach). Before long the backroom staff were departing in droves, and there were constant leaks about dressing room unrest.