The Lehman broker, the PR exec, and a $5m trading ring
A broker allegedly fuelled an insider trading ring by secretly spying on his own wife's work calls...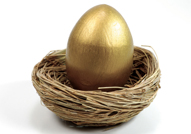 Matthew Devlin, an ex-Lehman broker now at Barclays Wealth, has been accused by the US SEC of orchestrating a trading ring by passing on confidential information gleaned from his wife, a senior exec at PR agency Brunswick. Devlin allegedly spent four years listening in to his wife's work calls and checking out her schedule to work out when deals were about to happen, then leaked the information to various friends of his so they could buy and sell shares. In return for these illegal tip-offs, his grateful chums showered him with expensive gifts. Not exactly the kind of tale that will rehabilitate the reputation of Wall Street's finest with the general populace…
By all accounts, Devlin's wife Nina (who's a partner in Brunswick's New York office) was entirely oblivious to the fact that her husband was spying on her and using the information to break the law. Brunswick – for whom this will be a serious embarrassment – insists that she has 'not been charged or implicated in any way', and she told press that she was 'devastated' to learn about the charges (as you would be). However, the gang don't seem to have had too many qualms about exploiting her this way – in fact, she was universally referred to as 'the golden goose', even by her own husband.
The SEC claims that Devlin managed to give his associates the heads-up on no fewer than 13 top-secret deals (including Inbev's $52bn bid for Budweiser), allowing them to rake in nearly $5m in profits between them. The motive, according to the SEC, was pretty simple: greed. 'By providing inside information, Devlin curried favor with his friends and business associates and received in return cash, luxury items and other benefits,' it said in its statement. Devlin's gifts apparently included a Cartier watch, a Barneys New York gift card, a widescreen TV, a Ralph Lauren leather jacket, Porsche driving lessons and of course the odd backhander. And there was his wife thinking he just had very good client relationships...