Lehman CDS crisis: A Complete Damp Squib
Turns out that the hysteria over Lehman credit default swaps was completely overblown. But why?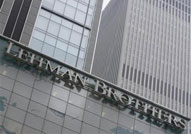 As the deadline for settling credit default swaps related to the collapse of Lehman Brothers approached, agitated commentators were suggesting that the payouts involved would be so vast – as much as $400bn, it was said – that some big banks and hedge funds wouldn't be able to afford the payments, and would end up going bust as as a result. But in fact, when all the debts were settled up yesterday, they actually added up to a relatively measly $6bn. That's a fairly big discrepancy…
In a statement, the International Swaps and Derivatives Association pointed out that the estimated $6bn to $8bn total amounted to 'approximately 1% to 2% of the $400bn CDS trades referencing Lehman, and does not account for the effects of collateral, which will further reduce the payment amounts.' Apparently the figures were nothing like as bad as expected because many of those involved had both bought and sold protection, offsetting their losses. And since people have already been putting up collateral against the contracts (now worth just 8 cents on the dollar), very few will be forced into a big payout now – so there's unlikely to be anyone falling over as a result.
Clearly the rumour-mongers got it very wrong. But this whole episode just highlights just how opaque the whole thing really is. Since these credit default swaps (effectively insurance protection against a company defaulting on its debts) are privately-negotiated contracts between private parties, nobody on the outside really has any idea how much risk there is, who owns it, or even – judging by this case – what happens if the sellers have to pay out. What's more, estimates suggest that the market is worth about $60trn, which is pretty terrifying for something that nobody without a degree in rocket science appears to understand.