Leighton's high-powered chums talk On Leadership
Rose, Gooding, Lane Fox, Arora, Crozier and Rebuck all chipped in to Allan Leighton's latest event...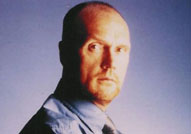 On Thursday night Allan Leighton launched the latest leg of his bid to raise £1m for Breast Cancer Care. The chairman of Royal Mail (amongst others) got out his little black book and invited some of his most senior business chums to come along to dinner and talk about leadership, in front of a 300-strong audience. Sir Stuart Rose and Val Gooding were the two main attractions, and to make up for a no-show from the ailing Jacqueline Gold, Leighton persuaded CEO chums Adam Crozier and Gail Rebuck, plus entrepreneurs Surinder Arora and Martha Lane Fox to chip in their tuppenceworth from the audience (at rather short notice, by the sounds of it).
However the night began with journalistic royalty in the form of the BBC's Robert Peston, who told us that he first started to get worried about the economy when a top banker failed to give a convincing definition of the complex CFOs, CDSs and other TLAs that were printing money for his traders. 'Now people want their £4trn back, which puts a bit of a dampener on things,' said Peston. 'The world is going to look a very different place [in a few years] – not necessarily worse, but very different.'
After dinner Leighton was joined on stage by Rose, Gooding and celebrity compere Jon Snow, who presided over a discussion of leadership in times of adversity. And although all three have cut their teeth running huge companies, Leighton insisted that the advice was just as relevant for small firms. 'Running a small business is exactly the same as running a big business – in fact in some ways it's harder.'