Lengthy Christmas break for small businesses
SMEs are following the lead of the big carmakers and shutting down for an extended Christmas break...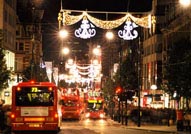 Around 500,000 small businesses are planning to down tools and shut up shop for at least two weeks, according to the latest research from the Federation of Small Businesses. That's about 10% of the total, the highest proportion for 16 years – and it shows that many entrepreneurs and business owners have taken their lead from struggling manufacturers by shutting down to try and save pennies…
In recent weeks, we've seen several big car-makers announce that they're closing down their factories for extended periods over Christmas, as the slowing demand forces them to cut costs. So it's no surprise that smaller manufacturers have been compelled to follow suit – while even tradesmen and service providers will also be able to save a bit of money. 'By closing down for the full two weeks, small firms are looking to save a bit of cash though reduced electricity and fuel bills,' FSB spokesman Stephen Alambritis told the BBC.
Rural firms are having a particularly tough time, according to the FSB – indeed, it's worried they could be the 'silent victims' of the crunch. The vast majority have seen sales slide this year, and almost 60% are expecting Christmas trading to be worse than last year (you'd hope there might be something of an exodus from cities to the country as families gather for Christmas, but these business owners don't seem to think so). And although the FSB is demanding more government support, they're not exactly the only ones in search of state aid at the moment.