Lenovo - a new type of multinational or the same old model?
Lenovo's chairman is 'building a new breed of multinational', says BusinessWeek in its latest cover story on the Chinese PC Group (December 11, 2006). However, it soon becomes clear that this is not a 'new breed' at all. Rather, this is an old and even a universal rags-to-riches story, in which the main protagonist happens to have been born in 20th century Communist China.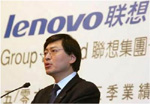 Yang Yuanqing, who is now 42, developed his strong work ethic and ambitious nature as a child. His parents were educated, hard-working surgeons who had high expectations for their son. But they were paid a labourer's wage, and the family lived in a cramped apartment in Hefei in eastern China. Yang's only toy was a bag of marbles and he had to learn to fend for himself. He was, in many ways, the classic nerd. For instance, he was so determined to study hard that he even disappeared back to his books in the middle of a family outing to the cinema.
Although he had artistic leanings and enjoyed poetry, he chose the sensible route of computer science. This smart move led the young, ambitious and somewhat socially inept young techie to the Chinese computer firm, Legend, as a $30 a month computer salesman. Later he had to learn to develop soft management skills to offset his more impatient, controlling ways. Yang got to know how Americans worked when he was put in charge of the company's engineering workstation, and met Sun and HP employees.
Yang was then given a chance to shine. When China opened its market to foreign PC firms in the mid-90s, the exhausted head of Legend, Liu, put his faith in the impressive and squeaky-clean 29-year-old Yang to run the company and meet the challenge of the new competition.
Many executives have cut their teeth in this way and shown their seniors what they were made of. For instance, Jacques Nasser proved his salt at Ford by turning around tough businesses within the company's global operations. Having done the seemingly impossible in record time, Yang was on the conveyor belt to further success. In 2003, he spotted his chance to globalise the firm by acquiring IBM's PC division.
Since then Yang has had some other tough issues to deal with. He seemed to stand slightly in the shadows behind his western second-in-command. the formed IBMer Steve Ward (who was pushed out recently, possibly for not doing enough to reduce costs), when Lenovo first burst onto the western stage.
Probably, Yang preferred not to be the mouthpiece for the firm. However, he has since improved his English language skills in his characteristically determined fashion and is now more confidently communicating with the outside world (though he still works with an American CEO, this time former Dell employee William Amelio). With an annual income of around $2 million, Yang enjoys a luxurious lifestyle with an apartment overlooking New York's Central Park, another near Lenovo's HQ in Raleigh, North Carolina, and a home in suburban Beijing.
In future, he will have to prove that he can make more out of IBM's old PC division than 'Big Blue' was able to do itself. By past record, if anyone can do this it will be Yang. Slowly, the Lenovo brand is replacing the IBM one and the task ahead will be to develop its global branding further.
The last book Yang has read is apparently The Flat World by the American author Thomas Friedman and he is dubbed in Business Week as 'China's Bill Gates'. It is, perhaps, too soon to say whether Yang is another Gates. After all, he is shaping and developing something that already exists rather than creating something entirely new.
However, Yang seems as American as apple pie or indeed, as American as Bill Gates. His tough, meritocratic management style is compared to Jack Welch. Clearly, he is a tough, resourceful, hardworking and driven man, who has been entrusted to develop an international enterprise that happens to be Chinese. How that makes him the head of a 'new breed' of multinational is much less clear.
By Morice Mendoza
6 December 2006