A lesson from the book of Job
Just to prove that good management practice knows no boundaries these days, the Vatican has announced that it's going to introduce corporate-style bounces and incentives for its staff. To quote Corinthians, God loves a cheerful giver...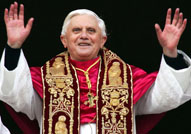 The Vatican, one of the world's smallest states, employs about 4,000 people – from gardeners all the way through to archbishops. Staff already receive bonuses on special occasions – such as the election of a new pope – but this will be the first use of performance-related pay. From January, the top performers will become eligible for bonus payments of up to 10% of their salary, as a reward for notable 'dedication, professionalism, productivity and correctitude'.
'Meritocracy has breached the Vatican walls' proclaimed Il Messaggero, a Roman daily newspaper. Apparently the new set-up has already been agreed with the ADLV, the nearest thing to a trade union within the city.
Of course, bringing in a familiar corporate solution will also leave the Vatican with a familiar corporate problem – how to balance the books. If it's going to start paying out more money to staff, it may have to cut down on some of its other spending.