Lessons from the corporate battlefield, with YouTube
How to deal with the flak, with Monty Python, Blackadder and Full-Metal Jacket.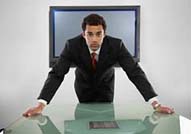 People matter. In tough times, you can be on top one minute, your team hailing you as a hero; the next everyone's suddenly calling you a bastard. And all you've ever tried to do is get the job done. But as this Monty Python clip from the trenches shows, it's worth paying heed to what your people think, as you're nothing without your team.
Keep your dignity. Events can sometimes drive us to despair, especially when we're savvy enough to understand the mistakes that led us there in the first place. Still, it's best to keep a brave professional face while in the office. Let your true feelings show and, like Blackadder, you may end up leading your team with a couple of pencils stuffed up your nose and a pair of underpants on your head.