Lessons in Leadership by Terror - Finding Shaka Zulu in the Attic
The fundamental aim of this book is to better understand a special type of leadership: leadership by terror, which remains a very contemporary problem. What makes the existence of leaders who resort to such dysfunctional behavior pattern particularly disturbing is that the potential of new tyrannical leaders coming to the fore is ever-present in society. Given the psychological make-up of humankind, we can speculate that - when the opportunity arises - there are many tyrants-in-the-making among us.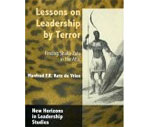 Professor Manfred Kets de Vries takes us inside the despotic mind to understand what their actions are all about; to comprehend the source of their actions; to recognize the danger signs; and to help create checks and balances. He studies the kind of psychological processes that contribute to political terror and the nature of group behavior associated with this phenomenon. It analyzes the special psychological interplay that occurs between despotic leaders and their followers and scrutinizes the mind-set of such leaders. Making sense of the inner theatre of such leaders will not only help to better understand the nature of despotism and totalitarian states, but also create greater awareness of what effective and ineffective leadership is all about.
For the purpose of representation, one of the most controversial African leaders of all times has been selected: Shaka Zulu. In 12 short years this warrior-king, sometimes called the "Black Napoleon" or "African Attila", conquered a territory that was larger than Western Europe. His unification of the many tribes of the South African region and his efforts are directly credited with saving that region from European domination during his lifetime. As the observations made about Shaka Zulu are quite diverse in content, episodes in his life are selected to provide insight into his personality, with attention given to his background, developmental history and his leadership style.
In analyzing Shaka Zulu's personality and behavior a clinical perspective will help to untangle the relationship between child and man, between personal peculiarities and public acts, concepts of developmental psychology, family systems theory, cognitive theory, dynamic psychiatry, psychotherapy, and psychoanalysis (particularly object relations and self-psychology) to better understand his behavior and actions. Psychological dimensions relevant to his leadership style are highlighted and analyzed in the context of the socio-political environment of the Zulu culture at that period in time.