Let women tame the macho excess
The City has always been a male preserve, fired up by a testosterone-enhanced culture. A healthier gender balance might have avoided the crash. Emma De Vita reports.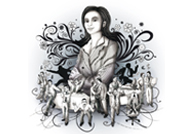 It's typical: the men make the mess and the women come in to clean it up, joked an Icelandic banker about the appointment of two women to rebuild Iceland's collapsed financial system. The promotion of Elin Sigfusdottir and Birna Einarsdottir to run the nationalised New Landsbanki and New Glitnir banks respectively is an attempt by the Icelandic government to draw a line under the past and start again. The macho culture of irresponsible risk-taking that many now blame for Iceland's financial meltdown will no longer be tolerated.
Bringing in the women, pooper-scoopers in hand, would seem to be an admission that the men have screwed up, big time - for, let's acknowledge it, financial firms are still largely run by men, for men. Radical voices are calling for the testosterone-ridden rules to be torn up and rewritten along more feminine lines. 'The current crisis gives us the opportunity to insert gender into the re-writing of the rules,' said Nadereh Chamlou, one of the World Bank's senior advisers. 'We need new people at the table - people who are not associated with the past,' she adds. Enter the women...
'What Iceland is trying to portray is that it is taking lower risks because women take fewer risks than men,' says professor Tryggvi Thor Herbertsson, CEO of Nordic investment bank Askar Capital and, until recently, economic adviser to Iceland's prime minister, Geir Haarde. 'Women are more cautious and more thoughtful. I think men look more for high returns - which, of course, brings greater risk.'