Let's not kid ourselves: Standard Life leaving Scotland would be A Bad Thing
The pension provider is Scotland's third-biggest company by pre-tax profits and one of its largest employers. If it leaves, others will follow.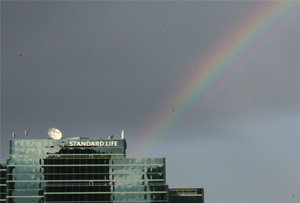 A warning this morning from Standard Life that if Scotland votes in favour of independence, it'll be out of there faster than you can say 'currency union', has been received with a certain amount of head-scratching and shoulder-shrugging.

In its annual report published this morning, chief executive David Nish said the company has 'started work to establish additional registered companies to operate outside Scotland, into which we could transfer parts of our operations if necessary.'

Nish's concerns seem to centre around the risk of Scotland losing the pound: with £240bn of assets under management, it is, after all, the UK's biggest provider of defined contribution pensions and self-invested pension plans. If there's one thing that sort of business needs, it's currency stability.

Pundits have been curiously underwhelmed by Standard Life's threat. Admittedly, compared with leviathans like RBS, the company is by no means Scotland's biggest employer - but 5,000 of its 8,500 employees are based in Scotland, and this morning it reported operating profits of £751m.

The more important argument is that Standard Life is far from the only major Scottish employer likely to be making these kinds of contingency plans. Yes, there are some which, for geographical reasons, need to stay north of the border. Others, though, have very little keeping them there. It's up to Alex Salmond to find reasons to make them stay.