Letting things go, with YouTube
Go easier on yourself and the world, with Armando Iannucci, Curb Your Enthusiasm and the Young Ones.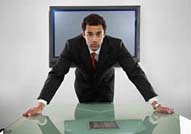 Made a mistake on the job? Let it go. You're only digging yourself a deeper hole by pretending everything is ok. Like this chap from Armando Iannucci's show who botches the DIY on his new wardrobe. If he'd swallowed his pride and owned up straight away he could have got help long before things got out of hand. Trouble is, he's a bloke...
If you're niggled by someone else's mistake and the damage has already been done, you're only going to raise your own blood pressure moaning on about it. Let it go. Otherwise you may end up cutting a strange and sour figure - like Curb's Larry David.