Lidl becomes England's 'official grocer'
The low cost supermarket proves it's as British as roast beef und Yorkshire pudding with a three year sponsorship of the FA.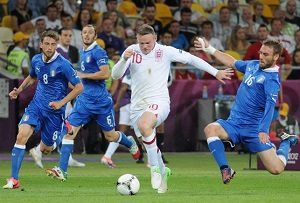 German supermarket Lidl has scored a goal against Britain's 'Big Four' supermarkets by becoming the 'official grocer' of the England, Scotland and Wales football associations. Under the terms of the three year deal, the German store will be the official supplier of fish, fruit, vegetables and (in England) bottled water to the home teams, while also supporting professional training sessions for kids across the country.
This clearly isn't the first time that a foreign firm has struck such a deal with British sports – Carlsberg has long been associated with the FA, for instance, while Aldi has already announced it will be Team GB's official grocer at the Rio Olympics – but nonetheless it represents a psychological blow to the British supermarkets.
Of course, Tesco et al might be a little more concerned about actual blows in the supermarket price war – it was revealed today for instance that Aldi and Lidl now command 10% of the grocery sector – but it still smarts. This is a position, after all, that Tesco and Sainsbury's both held in more prosperous times, even if it has been vacant for a few years.