A Life of Enterprise: A love game
John Vincent on why being an entrepreneur is like being a doubles tennis player (apart from the shorts).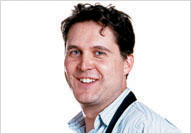 I collected our daughter Natasha from her friend Immy's house last week. Immy's mum Hayley answered the door. Hayley was in her tennis gear. We got chatting about the sport. It is, she explained, the 'total game' – requiring pyschological balance and nerve, athleticism, technical excellence, instinct, strategy, preparation, and in the case of doubles, communication. Plus a nice clean pair of shorts. Ah, can you see where this is going...? I'm about to suggest that Hayley's 'total game' idea made me think about being an entrepreneur... [CLICK HERE TO READ MORE AND COMMENT].

In today's bulletin:
Supreme Court backs banks in overdraft charges row
Hurrah! Recession not (quite) as bad as thought
Red-faced Tesco feels the pain of the business cycle
Bridging the gender divide in the workplace
A Life of Enterprise: A love game