A Life of Enterprise: The small print, or, Ernie and Edna
John Vincent hopes his new CEO knows that being an entrepreneur is about the boring bits too...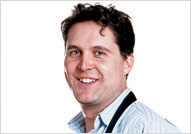 I have appointed a new CEO on a business that I am trialling. Let's call him Jesse. Because that's his name, and I am less likely to get confused. Jesse is very keen to be an entrepreneur. And that's lovely. Really, genuinely, brilliantly lovely. But I really hope Jesse knows that it is not like in the adverts.
It is not like in The Apprentice, where you get to drive round in a London cab talking into a BlackBerry on conference call mode being 'aggressive' just as SrAlan ('Sralan will see you now') seems to like. It is not about testosterone. Or oestrogen. Or any other bodily enzyme or fluid. It's about constantly matching the big print with the small print and the long term with the short term. When people see entrepreneurs, they see them in every situation apart from at work. They see them at parties. Speaking at conferences. Maybe on Dragon's Den. And they think this is what they do. The reality, of course: the fun bits are earned by doing the boring bits. The exuberance is earned by the temperance. And the spunking of cash earned by the hard, fearful preservation of cash. Here are two characters: Ernie the Entrepreneur and Edna the Entrepreneur... [CLICK HERE TO READ MORE AND COMMENT]

In today's Pre-Budget Report Special:
Darling hikes NI again - and hits banks with bonus tax
Editor's blog: Darling thinks small in Pre-Budget bore-fest
EasyJet boss hits the eject button after Stelios spat
Want a pay rise? Move to Romania or Kenya
A Life of Enterprise: The small print, or, Ernie and Edna