Life not getting any easier for UK SMEs
It's Global Entrepreneurship Week - but the Government needs to put its money where its mouth is.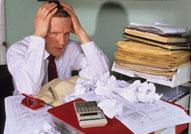 We're big fans of Global Entrepreneurship Week, the annual celebration of all things enterprise. But for most UK entrepreneurs, there may be more pressing concerns: a report released by the British Chambers of Commerce today reveals that 97% of UK SMEs think access to credit is as bad or possibly even worse than it was in the summer - and most continue to see weak demand for their services. We're all for the Government trying to foster entrepreneurialism. But a bit more financial help - either indirectly, by forcing the banks to play ball, or directly, through lower taxes - might be more immediately useful...
In response to the BCC's latest monthly survey, 64% of companies said there's been no improvement whatsoever in credit conditions - and 33% said it had actually got even worse in the last three months. That's despite the Government leaning on the banks and pumping billions and billions into the system via quantitative easing - the end result of which was supposed to be that more funds trickled down to SMEs. 'It is clear that [these] huge sums are are still not reaching small and medium-sized businesses in anything like the scale required,' harrumphed BCC boss David Frost.

Frost reckons the Government needs to include some measures in December's Pre-Budget Report that will make life a bit easier for companies - as opposed to making their life even more difficult by slashing spending on things like infrastructure. 'A government focused on the UK's future economic success must do everything it can to protect investment in infrastructure,' he added.

The British Library's Business & IP Centre goes even further: its latest report contains ten suggestions as to how the Government should be using its cash to help entrepreneurs - the most eye-catching of which is that small firms should get some form of tax exemption for their first year or two of business (on the grounds that it takes that long to get going properly, in most cases). 'If the government is serious about encouraging enterprise in the UK, then they need to avoid gimmicks like the VAT cut, and offer start-ups a genuine exemption,' said ex-Dragon Doug Richard, who helped put the report together.

Sadly, the problem with measures like this is that they'll cost money the Government doesn't really have...

In today's bulletin:
Sainsbury's feels the squeeze from all sides?
I'll drink to that - Majestic toasts new strategy
Life not getting any easier for UK SMEs
The Parent Project: Do working mums get too easy a ride?
MT Expert's Ten Top Tips: Keep your IT systems secure