Link cashes in (or out) from weekend sun
The cash machine network says Friday was a bumper day for cash machines, with £577m withdrawn - more than any day this year.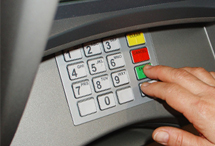 Link, the cash machine network which operates almost all of the holes in the wall in the UK, says that more money was withdrawn from cash machines on Friday than any day so far this year. Apparently, as the sun doffed his cap for the final time this year, day-trippers keen for a bit of seaside action took out almost £577m. That's a lot of Kiss Me Quick hats. The last time so much was money withdrawn was on Christmas eve. Does this prove that all consumers need to get spending is a little bit of sunshine?

According to Link, which operates 64,000 cash machines in the UK, the £577m taken out on Friday was 14% more than on the same day a year earlier, while the £252m withdrawn by sun-worshippers on Sunday was 11% higher than a year ago. According to Link, this is all because consumers usually choose cash over cards 'when buying things outdoors'. Which presumably means that ice cream vans and whelk stalls were doing a roaring trade…

Of course, all this is deeply at odds with the prevailing mood of doom and gloom. Last week, a survey by uSwitch showed that the UK has the worst quality of life in Europe, with miserable consumers being hit by everything from high VAT, the highest food and diesel prices in Europe and more-expensive-than-average unleaded petrol, alcohol and cigarettes.
judging by this weekend's performance, it's clearly no coincidence that 13% of the 2,036 adults surveyed by uSwitch said they'd like to move to Spain. After all, as Link CEO John Howells put it, this weekend's good weather 'really seems to have encouraged people to withdraw cash in preparation for increased spending over an unusually sunny weekend'. Although it's worth pointing out that high street retailers were a little thrown by the sunny weather, complaining that they didn't have the right stock. Still. Considering retailers are desperate for a bit more consumer activity, that might just make this summer's wash-out a matter of economic importance.