Lion and horse, but no beef in Findus lasagne
Findus's owner Lion Capital is coming under close scrutiny, after FSA tests showed some of its so-called 'beef' products are 100% horsemeat.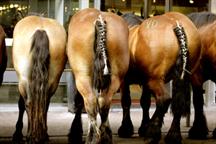 Findus has withdrawn from sale beef lasagnes some samples of which the Food Standards Agency (FSA) says were composed entirely of horsemeat. Tests on a total of 18 of the firm's products showed that 11 of them contained between 60% and 100% horse, a level of contamination which FSA chief exec Catherine Brown described as appalling and likely to have been a result of criminal activity at some point in the supply chain, rather than simple negligence.
Aldi and Lidl have also withdrawn some products supplied by the same French company, Cormigel, that produced the withdrawn Findus lasagne. Findus's private equity owners, headed by Lion Capital, have unsurprisingly come under some scrutiny this morning as a result. With deliciously juicy irony its boss Lyndon Lea turns out to be a polo-playing sybarite whom the Telegraph describes as a 'financier straight out of central casting.'
He is also - surprise surprise - a Goldman Sachs alumnus. They do get everywhere don't they? Poor old Findus - on whose Crispy Pancakes a generation of students cut their culinary teeth - has an unhappy financial history. In 2011 (under different private equity ownership) it made a loss of £241m and broke its banking covenants, and it broke covenants again - twice - in 2012. A programme of extensive cost cutting followed. Lion and a consortium of backers including Highbridge Capital, JP Morgan, CapVest and Northwestern Mutual, stepped in Sept 2012, refinancing and taking control.