Lipitor: positioning the world's first $12 billion drug
This case study focuses on the marketing strategy that led to the success of Lipitor, with 2005 sales of $12.2 billion making it the world's best-selling drug by a wide margin.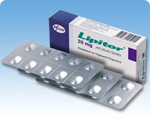 Case A describes its market entry and rise to market leadership. Positioned as a more effective product, Lipitor was the fifth entrant into a well-established category with strongly entrenched competitors. Case B analyzes the challenges to Lipitor posed by competitor repositioning, a product safety crisis potentially affecting the entire pharmaceutical category, and the planned entry of a new competitor intent on beating Lipitor at its own game.
Author Reinhard Angelmar, the Salmon and Rameau fellow of healthcare management and professor of marketing, describes the strategy employed by executives at Pfizer to ensure the product's phenomenal growth.
The marketing of prescription medicine is a complex business. All new pharmaceutical products first require approval from health authorities such as the US Food and Drug Administration (FDA) and the European Medicines Evaluation Agency (EMEA) prior to market introduction. Products may only be promoted for the approved indications, dosage and administration, and safety and risk information must be disclosed.
In most countries, prescription medicines can only be promoted to healthcare professionals. Consumer-targeted ads which raise awareness of symptoms without naming specific brands are generally tolerated, but brand advertising is authorized only in the US.
Case A looks at the rationale behind the partnership between Pfizer and Warner-Lambert and the conditions and circumstances surrounding the launch of Lipitor in February 1997 in the US, UK and Germany. The success of the product had come at the expense of Merck & Co, which had pioneered the statin product category and whose Zocor brand was fighting to remain competitive.
Pfizer executives had to decide what changes they should make to Lipitor's marketing strategy to counter Merck's latest efforts to enhance Zocor's effectiveness and range of indications, underlining its determination to defend its position.
The need to ramp up Lipitor's marketing strategy in response to its competitors' recent moves threw up a number of challenges for management: What should be done to counter Zocor's new HDL-C indication? Should Lipitor, hitherto promoted only to healthcare professionals, also be promoted to consumers? What other initiatives should be taken to ensure Lipitor's continued growth?
Case B takes up the story in August 2001, when executives at Pfizer were grappling with how to defend Lipitor's market leadership, then worth $5 billion. How should they prepare for the arrival of Crestor, a new statin drug from AstraZeneca? Hyped as a "superstatin", would Crestor do to Lipitor what Lipitor had done to Zocor? And how should they react to the sudden market withdrawal, due to safety risks, of Bayer's statin drug, Baycol/Lipobay?
INSEAD 2006