Too little too late at Grangemouth?
Union leaders have met with managers from Ineos in a bid to save the petrochemical plant.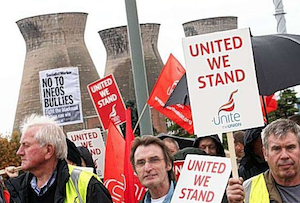 Another day, another Grangemouth twist. Following yesterday's announcement that Ineos, the owner of the Scottish plant, had decided to close the petrochemical plant for good, the Unite union has had a meeting with its managers in an attempt to save the plant and with it, hundreds of jobs.

Union leaders have belatedly said they are willing to make 'concessions' in order to keep the plant open, after all 800 workers at the petrochemicals facility were told they would lose their jobs. The pressing question is whether negotiations now are too little, too late?

Unite union encouraged workers at Grangemouth to refuse proposals by Ineos to end their final salary pension scheme and cut shift allowances earlier this week, prompting Ineos to shut the plant. Now it has changed its tune and decided to 'embrace' the survival plan - 'warts and all'.

Tom Crotty, Ineos director has given some hope to the cause this morning, saying the management team at Grangemouth would be willing to listen.

'If they believe there is substantial differences in where [they] are now then clearly they have a duty to take that back to the shareholders,' he said.
Ineos is said to be waiting until it has further meetings with the government before making its choice. Any move to reverse yesterday's decision will have to be made by shareholders. The fate of the site's adjourning oil refinery is still unknown but following a week of being closed, the lights remain off.

Ministers in both the Scottish and UK governments are pushing for a way to save the plant – its closure (and potential closure of the oil refinery – Scotland's only) could have repercussions on both sides of the border. The site at Grangemouth supplies some 80% of the fuel for Scotland and also feeds the north of England and Northern Ireland. It is also one of Scotland's largest employers, and closure would cost an estimated 1% of Scottish GDP.

'We can't accept the removal of Grangemouth from Scotland's industrial infrastructure,' said first minister Alex Salmond. No kidding.

Both Whitehall and Holyrood are seeking alternative buyers for the site – officials in London are insisting they will be able to find a buyer for the refinery. PetroChina, which owns 50% of it, is currently mulling over whether to continue with the site.

Ineos has said it will consider firing up the refinery only when the threat of industrial action has been removed.

Analysts are less confident about finding a buyer for the petrochemicals plant. Like many such facilities in Europe, it is old fashioned and inefficient, making it a less-attractive prospect for potential buyers. All of which begs the question, if a buyer can't be found will one of the governments involved be prepared to step in?