You live and you learn: Bill Roedy, ex CEO of MTV
The man behind the music video on being raised by women, serving in Vietnam and making a break from MTV.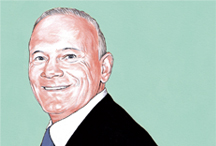 I was raised by women. My father, who was in the army, and my mother divorced when I was three. Women - my mum, my sisters, my grandmother and great aunt - were a very powerful force at home.
We grew up with nothing. This inevitably makes you very hungry. For me it was about three things: sports, reading and social interaction.
The TV was an important part of my childhood. We had a lot of unhappiness and I saw that box bring laughter into our home.