You live and you learn: Jeff Raikes, The Gates Foundation
The CEO of the world's largest philanthropic organisation on leaving Apple to join Microsoft and choosing which projects to donate to.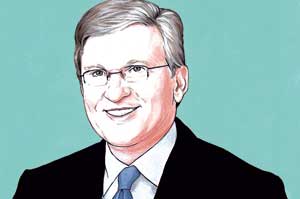 I grew up on a family farm in Nebraska.
It taught me my values, my work ethic, to care for living things like livestock and crops, responsibility and a passion for honesty. Contracts were a handshake. My brother took it over but he was killed in a farming accident in 2009. So, I'm now also a gentleman farmer.
In late 1981, I was 23 and decided to leave Apple for Microsoft. Both were tiny. I got the protest call from Steve Jobs, which involved plenty of yelling. He tried to convince me Microsoft was about to go bust.
I was never keen about being termed 'the de facto Number Three' at Microsoft 'that nobody had ever heard of'. Neither was I enthused about people calling Office 'the dead cash cow'. When Steve [Ballmer] and Bill asked me to go in and reinvigorate it, I doubled its size in seven years to $17bn and 750 million people use it.
Don't think of me as a Father Christmas with a $36bn sack. It's not how we work. We use a clear sense of strategy to maximise our impact. We are a catalyst, not a handout. We make evidence-based investment.