You live and you learn: Karan Bilimoria of Cobra Beer
The undisputed king of the curry house on optimism, dealing with losses and why marrying was the best decision he's ever made.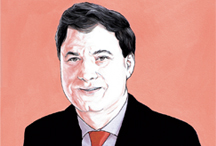 I founded Cobra in 1990 with a childhood friend of mine.
I was an optimistic entrepreneur with ideas. We complemented each other very well but he never believed the business would work and quit after five years.
I'm from a military family. My great-grandfather was in the police and arrested Mahatma Gandhi three times. My father was commander in chief of the Indian army. When I started Cobra, he said I'd wasted years of education by becoming an import-export wallah and told me to get a proper job.