You live and you learn: Mike Lynch
The Autonomy CEO and founder on forfeiting a career in academia, Suffolk locals and taking a hard line with employees.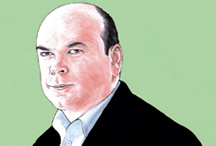 If I hadn't started Autonomy, I would probably have been an academic. I still give guest lectures at Cambridge. If I had stayed there, I'd probably have the keys to the wine cellar by now.
My granny was a good old socialist until her dying day. One of the great dilemmas of her later life was that I'd become 'the boss' and was therefore on the other side. But she made allowances for me.
I went to a good public school in a year when almost everyone was on a scholarship. The combination of brains and being streetwise meant that by the third year we ran the place. We also went on to excel at many of the things we chose in our careers: we had one murderer, one armed bank robber and a famous gay porn star.