You live and you learn: Paul Walsh
The Diageo CEO on wanting to join the RAF, his exit from Burger King and making redundancies.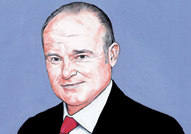 When I was a kid I wanted to join the RAF and fly fast planes. I actually got pretty advanced through the process but my eyesight wasn't good enough to fly jets.
My maths teacher was my hero. He was an outstanding teacher and he saw I had a bit of ability in maths and allowed me to pursue it. I used to take him out for lunch every year.
Letting people go doesn't get any easier with time. And it's not just redundancy: the other thing that's really tough is when you've got to sit down with people who are trying their hardest but they're just not cutting it, they can't put those scores on the doors.