Liverpool accept Red Sox takeover bid - but owners won't play ball
With the owners now openly at war with the board, Liverpool FC continues its experiment in how not to run a business.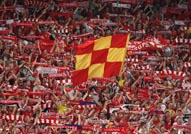 Just when it seemed that the Liverpool FC ownership saga couldn't get any more acrimonious, a new low: the board has agreed to sell the club to New England Sports Ventures, owner of the Boston Red Sox, but much-loathed owners Tom Hicks and George Gillett are planning to try and block the deal in court, apparently on the grounds that it won't make them enough money. To do this, they're trying to sack their CEO and commercial director (who they appointed) and replace them with their own stooges. Short of an actual boardroom punch-up, it's hard to see how this could get any tawdrier. Chairman Martin Broughton must be thinking that BA (which he also chairs) is a model of civility by comparison...

Liverpool are doing pretty badly on the pitch at the moment, of course, but off the pitch they're a complete mess. Hicks and Gillett refuse to sell up unless they can do so at a fat profit. But unfortunately for them (if not everyone else involved with the club) they no longer have majority control of the board. As a condition of their most recent refinancing, state-owned RBS forced them to bring in Broughton as chairman of the five-person board, with a remit to sell the club. So if Broughton teams up with the other two directors, CEO Christian Purslow and highly-rated commercial director Ian Ayre, they can out-vote the Americans.

Hence we end up with the ridiculous situation that Broughton can put out a statement this morning that the board has agreed to sell the club to NESV - a US group whose major asset is the Boston Red Sox baseball team - despite the current owners being completely opposed to the idea. In fact, they're actually trying to oust Purslow and Ayre and replace them with their own allies, so they can vote the deal down. After waxing lyrical about the benefits of the proposed deal today, Broughton added that he was 'only disappointed that the owners have tried everything to prevent the deal from happening and that we need to go through legal proceedings in order to complete the sale.' What a mess.
Our lawyer friends tell us that it's very hard to remove board directors, particularly with no notice and particularly without the support of the chairman. It seems unlikely that Hicks and Gillett can argue that Purslow and Ayre are breaching their fiduciary duty as directors by agreeing to a sale at this price - the club is over £200m in debt, and if a deal isn't agreed by next Friday, it will effectively be repossessed by RBS (possibly resulting in a nine-point penalty for the team, which would leave them with negative points). If that does happen, Hicks and Gillett will lose all their money. So this is a high-stakes game of chicken: since there's no way a legal row like this will be resolved in the next ten days, we can only assume that they're trying to squeeze a bit more juice out of the deal for themselves.
Either way, the club's name and reputation look set to be dragged through the mud for a while yet. Football clubs have never exactly been models of great corporate governance. But this is a whole new ball game.