Lloyd's boss to get back in the saddle?
Antonio Horta-Osorio took a leave of absence earlier this year due to exhaustion. Now chilled out and topped up on sleep, he wants to return. But is he fit to race?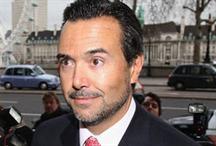 When Antonio Horta-Osorio stepped down in November, the odds were against his ever returning. But today, the word on the street is that he's itching to get back to the bank and resume his duties.
Of course, wanting to return and actually returning are two very different things. The Lloyd's board is wary of Horta-Osorio now. He'll have to undergo stringent health checks before he's even allowed past the first post. This won't just be a quick tap on the knee and 'cough, please'. A specialist is charged with going through 15 years' worth of medical records to make sure that he is truly back in rude health.
Horta-Osorio must then face a grilling by management. He is to meet with each member of the board in turn and convince them individually that he is fit to take the reins once more. The interviews will probably centre on the lessons learned from the past year, and questions over his ability to delegate. Before he stepped down, the ex-Santander boss was a good fit for the taxpayer-owned bank - his ability is undeniable - but he needs to be in it for the long run to convince investors.