Lloyds Co-op deal falls flat, IPO in the offing?
Plans for the Co-op to buy hundreds of Lloyds Banking Group high street branches have fallen through, but the bank may float the branches earmarked for sale.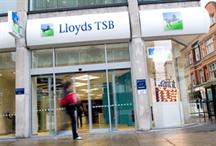 This is a serious spanner in the works for Lloyds. Until Wednesday, the bank thought that it was going to offload 632 of its high street branches to the Co-op (which was trying to expand its banking arm), but now it has turned around with a 'no', blaming tough market conditions and an overly restrictive regulatory environment.
The collapsed deal, nicknamed Project Verde deal, has been work in progress for many moons, and leaves Lloyds in a bit of a pickle. The bank needed to offload the branches to comply with EU regulation relating to the amount of support that governments can offer financial institutions in a bailout. Back in 2008 when it hit the buffers, the government had to exceed that amount to keep it afloat, and when the Co-op expressed an interest in the branches, it was a convenient opportunity.
Co-op boss Peter Marks said: 'After detailed and thorough consideration of all aspects of the Verde transaction, we have decided, at this time, that it is not in the best interests of our members to proceed with the transaction.